Are You Ready For Some Footsteps?!
JoAnne Lamas
Tuesday, October 01, 2019
Are You Ready For Some Footsteps?!
The first week of competition is over! Students worked hard and read over 5 million words to kick off the season! As the second week gets under way 21 classes have the chance to move up to 2-0 and 21 have a chance to even out their season at 1-1!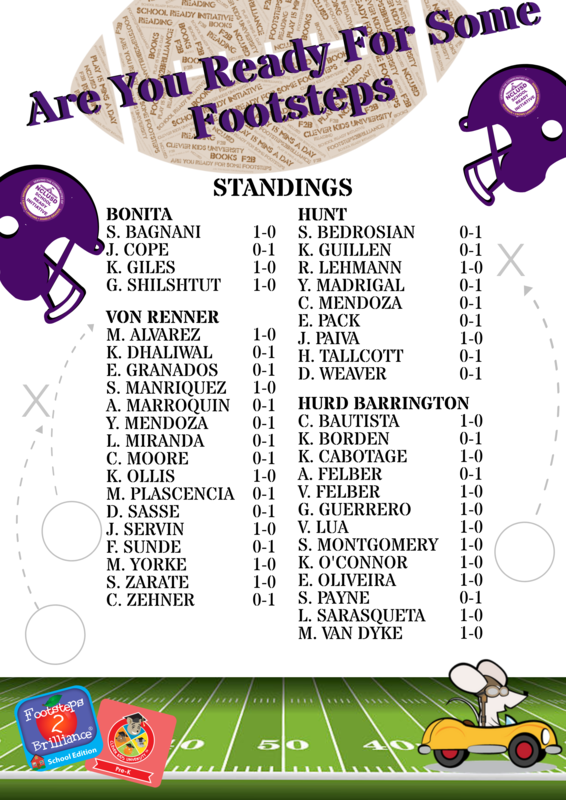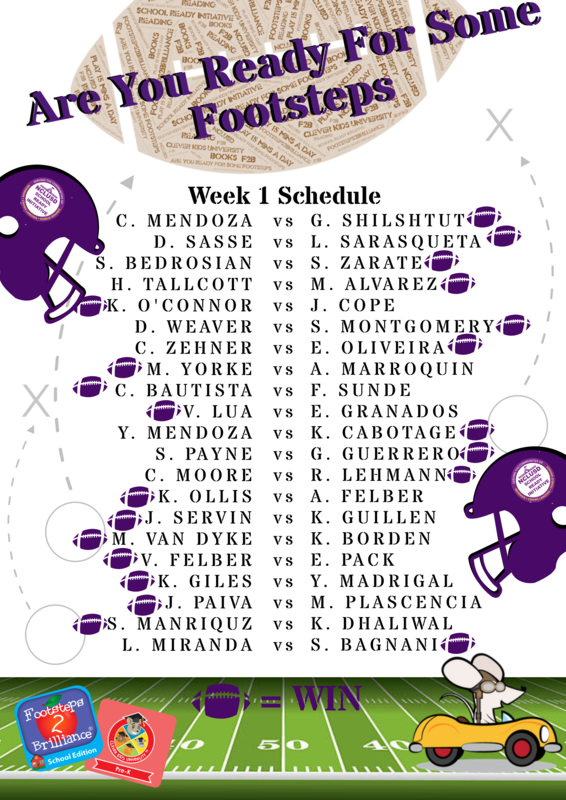 Are You Ready For Some Footsteps?! kicked off on October 1, 2019 and will run through December 9, 2019. Students in grades TK-3 will compete in weekly match-ups with another class in the district for a week long read off. After a complete week the class with the most words read wins the match-up and improves their overall record. After seven weeks of competition the four classes with the best records will advance to the playoffs.
Follow along here on our district website for the complete list of match-ups and updated standings every Tuesday!
Good luck to all our readers!
Rules & Regulations
7 Week regular season with weekly match-ups
Classes start each week at 0 words read
Class with most words read "Wins" the game (match-up) for that week
The top 4 classes with the best win verses loss record will advance to playoffs**
Playoff class with the most words read wins the Super Bowl
**In the event of a regular season schedule tie the classes with the most words read will advance to playoffs
Schedule:
Regular Season Schedule:
Week 1: Tuesday 10/1 – Monday 10/7
Week 2: Tuesday 10/8 – Monday 10/14
Week 3: Tuesday 10/15 – Monday 10/21
Week 4: Tuesday 10/22 – Monday 10/28
Week 5: Tuesday 10/29 – Monday 11/4
Week 6: Tuesday 11/5 – Monday 11/11
Week 7: Tuesday 11/12 – Monday 11/18
Thanksgiving Break
One Week Super Bowl Read Off:
Monday 12/2 – Sunday 12/8
Winners Announced Monday 12/9