We are so proud of our NCLUSD students who will be moving on to the State Competition in April!! Congratulations Students!! HBE- Gavin Layne 🌟 Bonita- Emma Davison & Isabell Romero 🌟 Bonita- Victor Linares & Gael Castano 🌟 Yolo- Kelly Zapien 🌟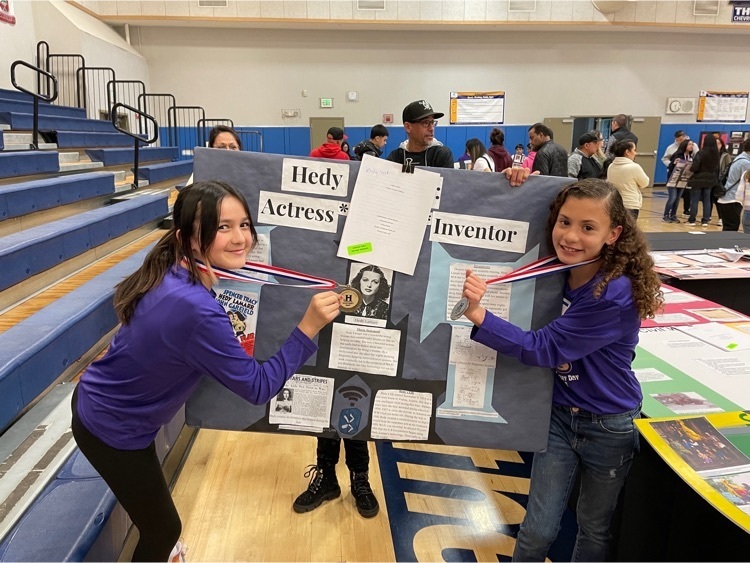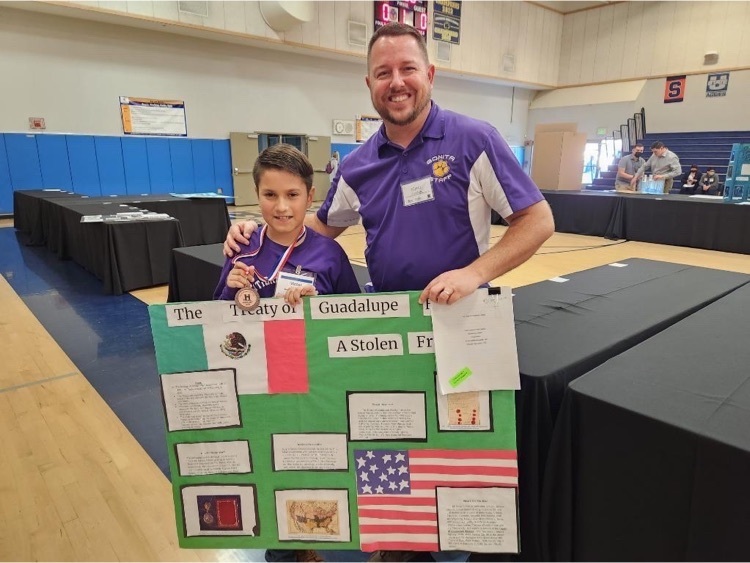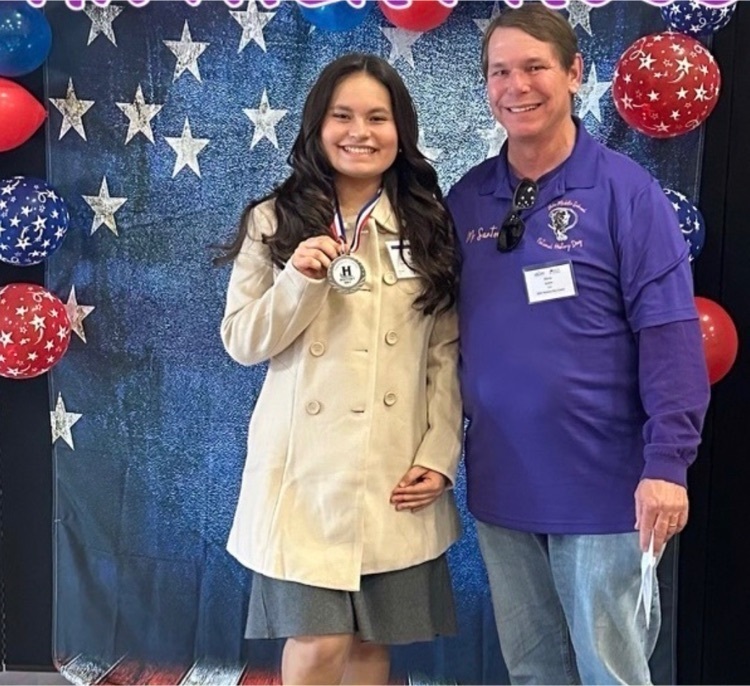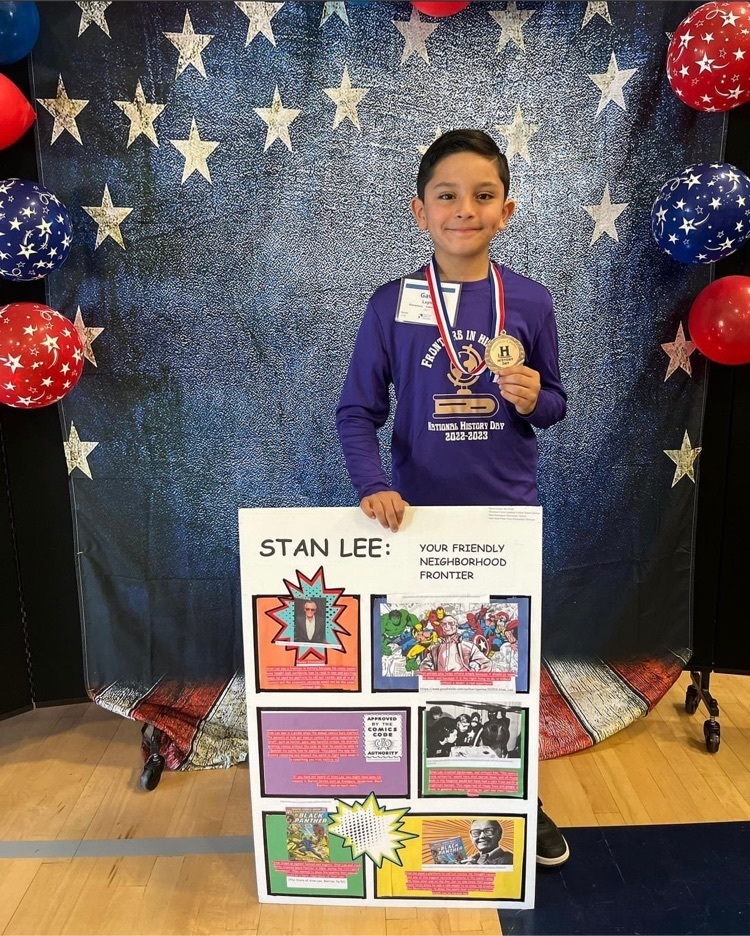 Congratulations to Kelly Zapien. She did an incredible job at the National History Day Competition at Creekside Middle School. She will be moving on to the State Competition. We are cheering you on Kelly!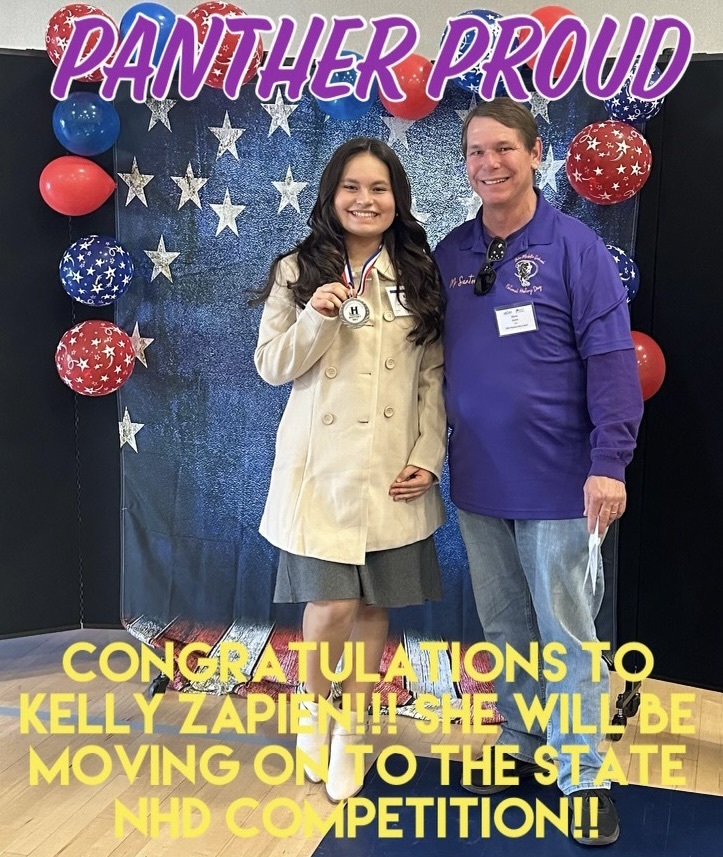 Congratulations to Gavin Layne a fourth grader at Barrington. He received a 3rd place award at the Stanislaus County level for National History Day. He is pictured with his project- Stan Lee: Your Friendly Neighborhood Frontier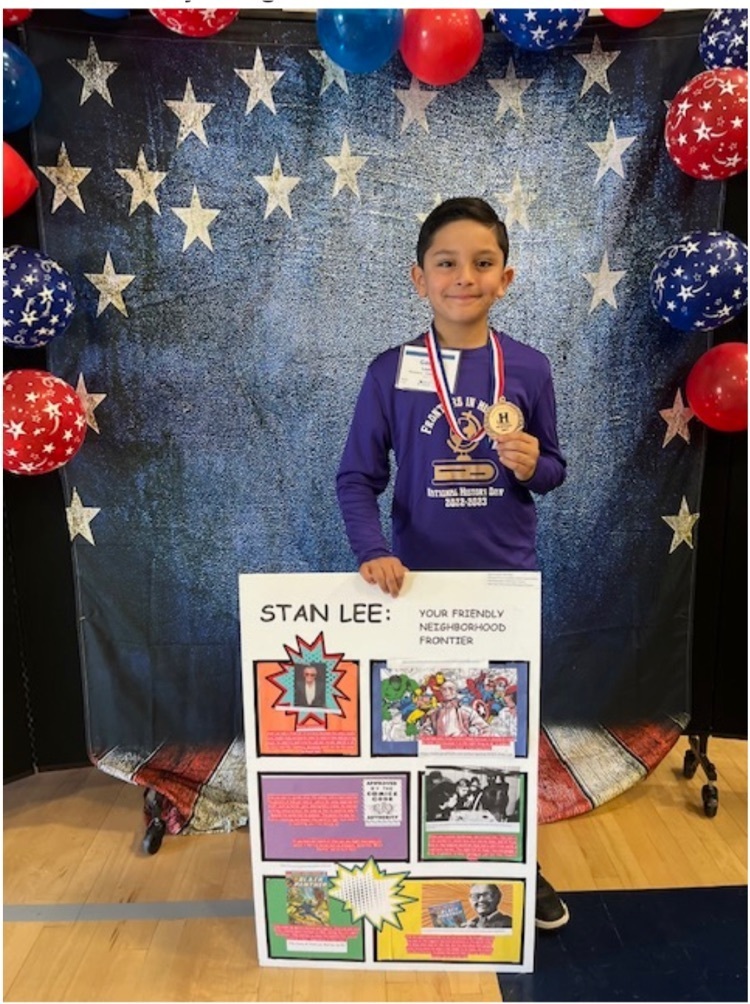 Two groups of students from Bonita ended up placing 2nd and 3rd for the Group Poster Category for National History Day! Congratulations to all 7 groups of students that competed from Bonita in the National History Day Competition!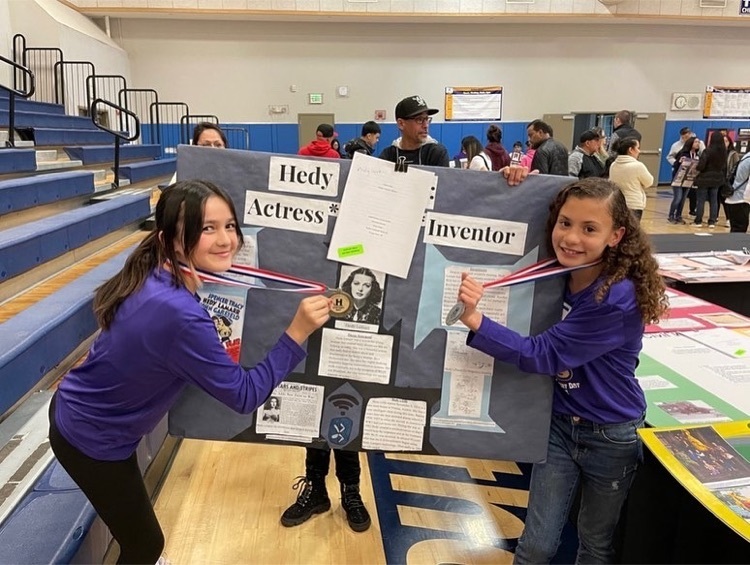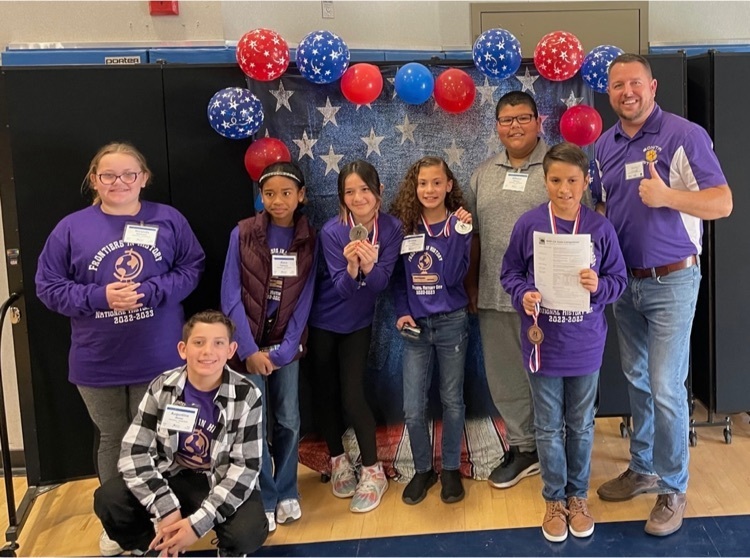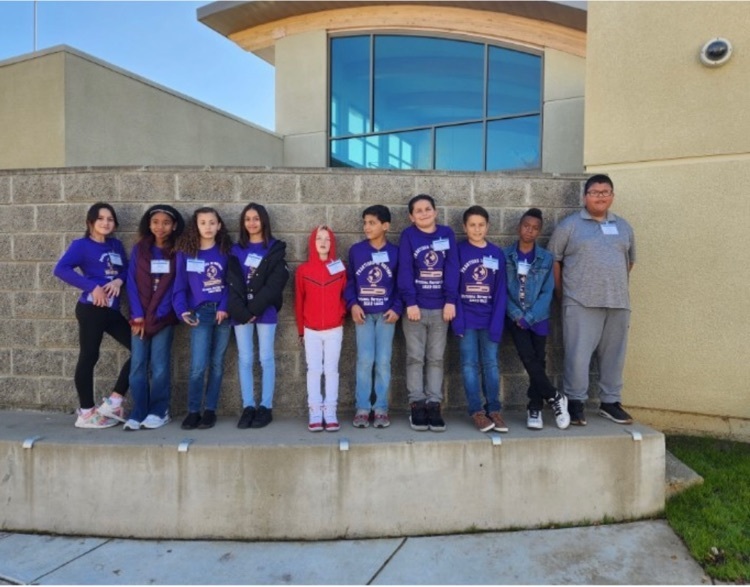 Barrington's students and family's had a great time in STEAM night on Thursday.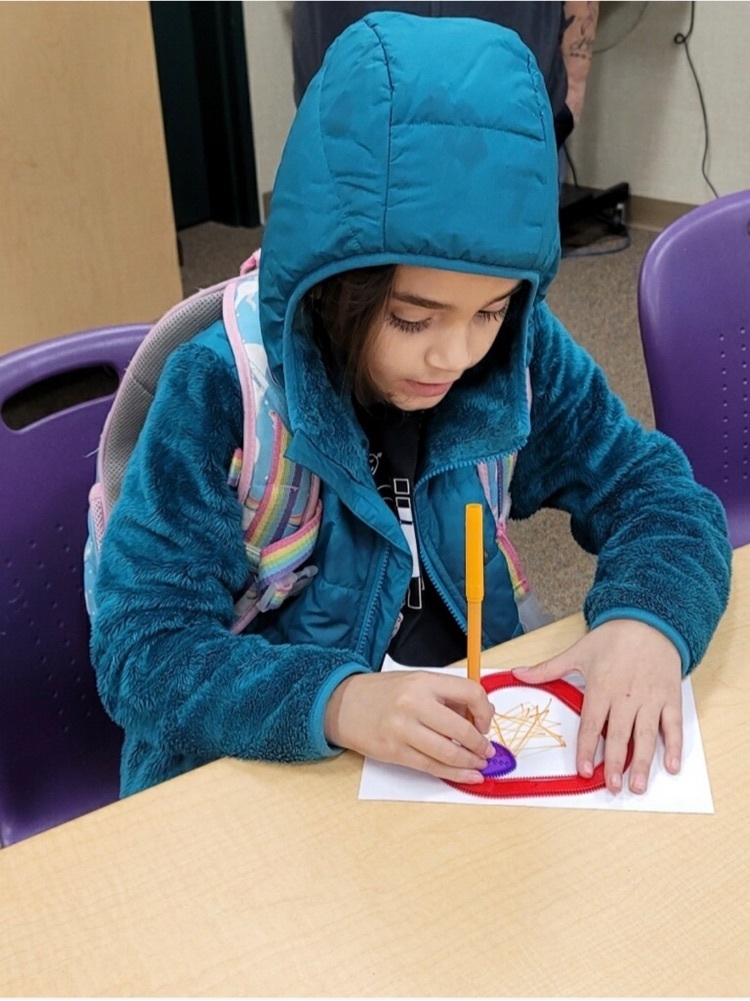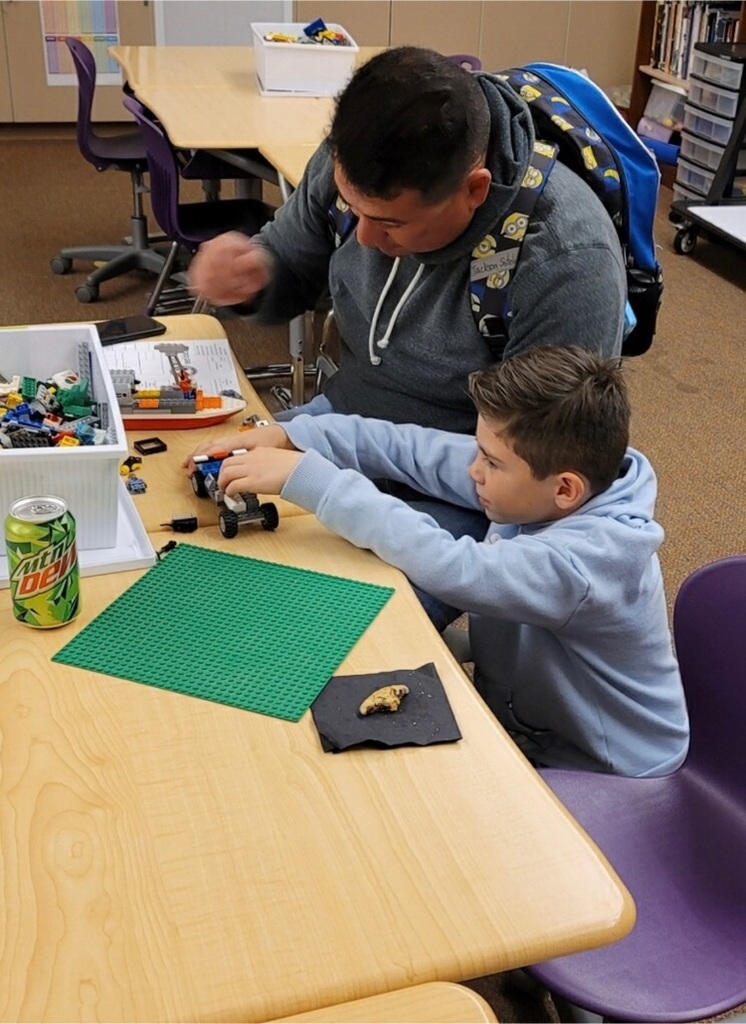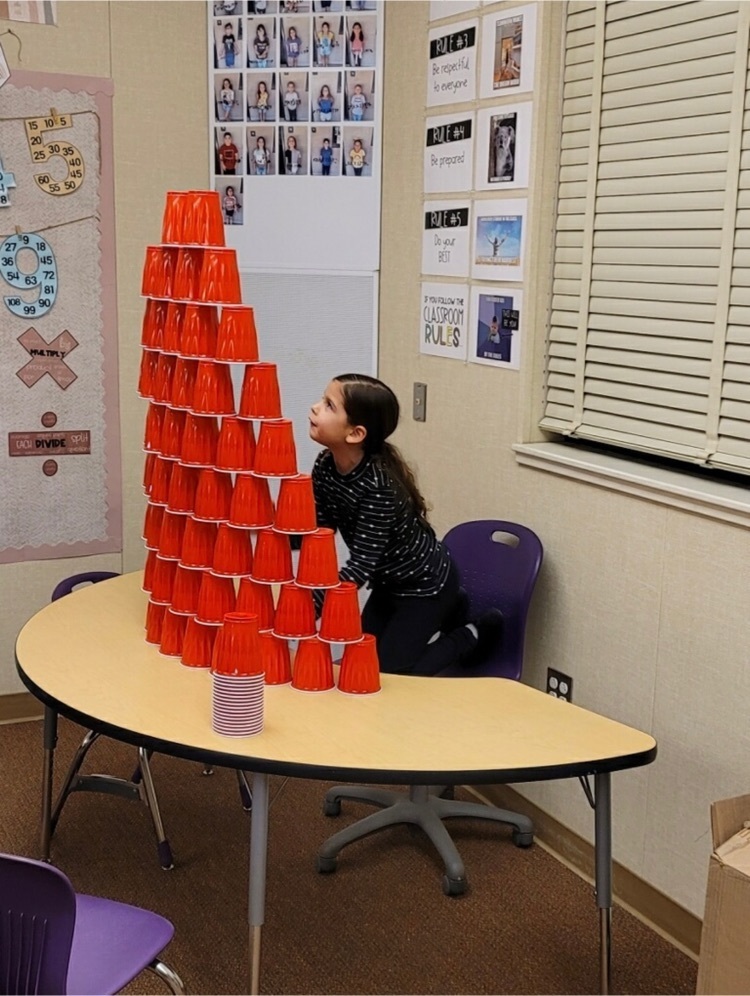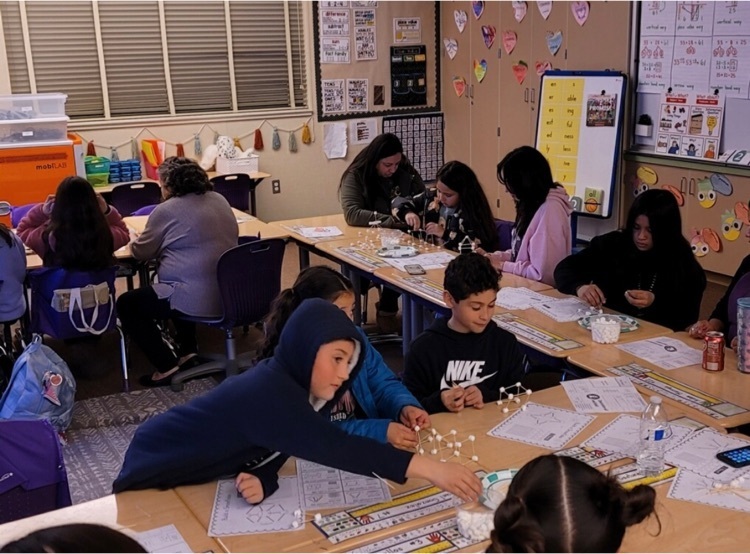 We are beyond excited and proud of the students that were reclassified during Orestimba's Reclassification Celebration. Let's keep up this momentum so we can soar through the rest of this year together.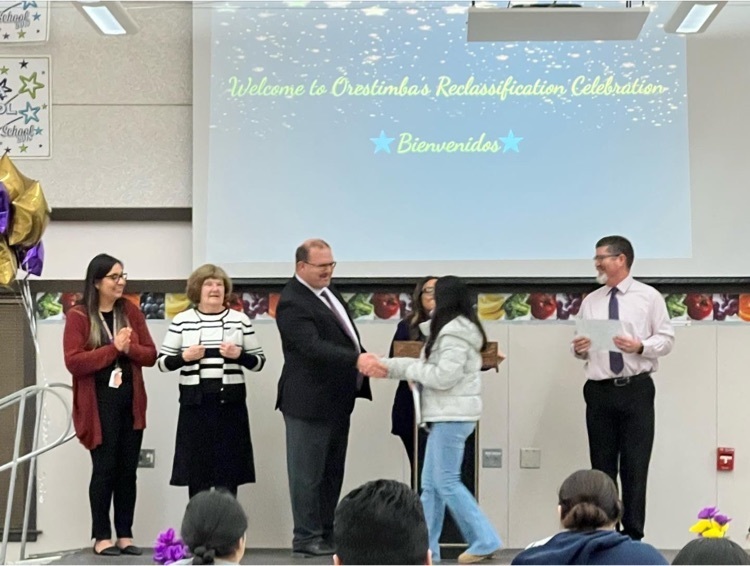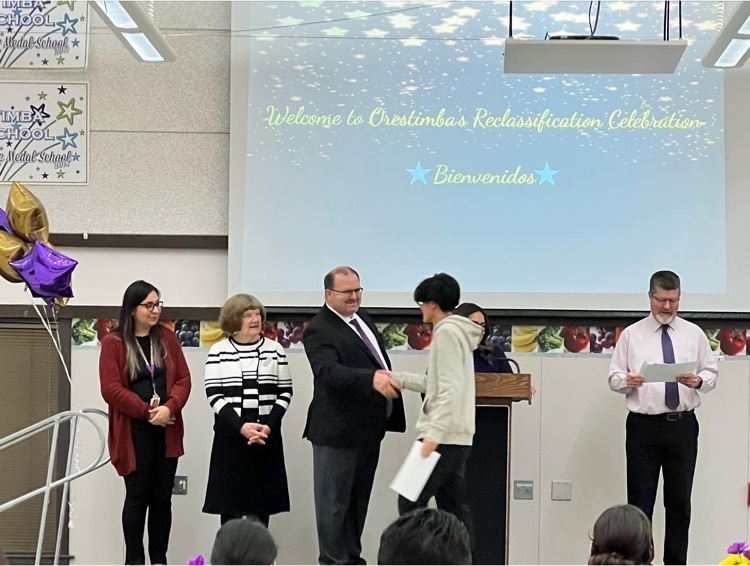 Teachers and students at Barrington dressed up like they were 100 years old to celebrate the 100th day of school.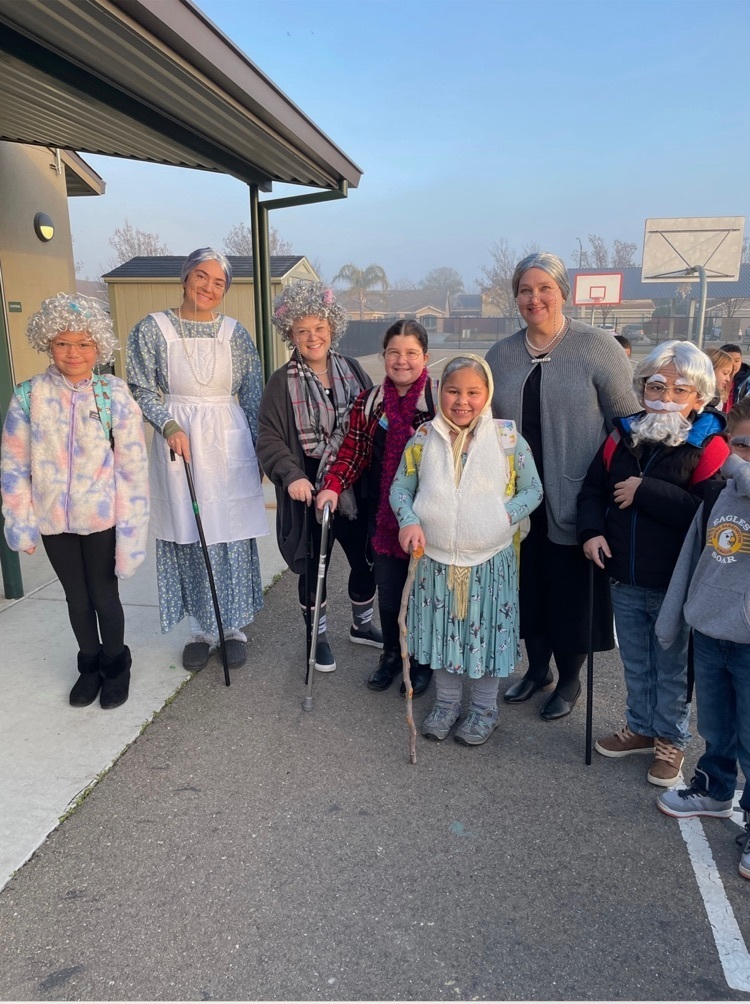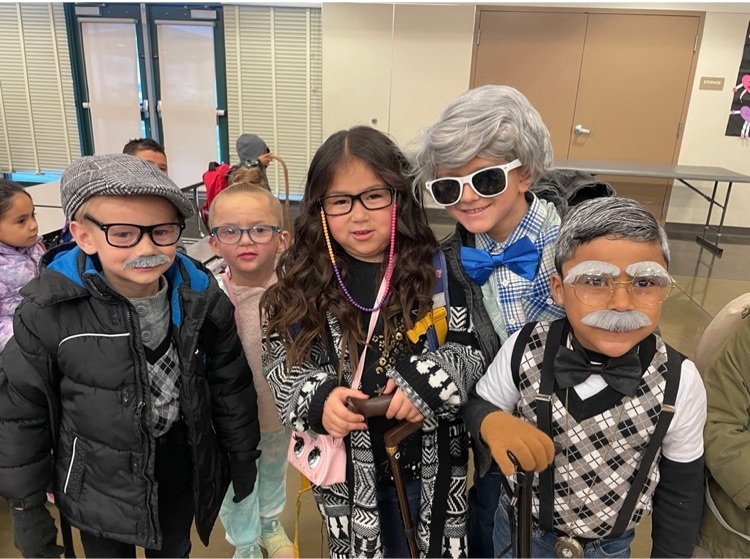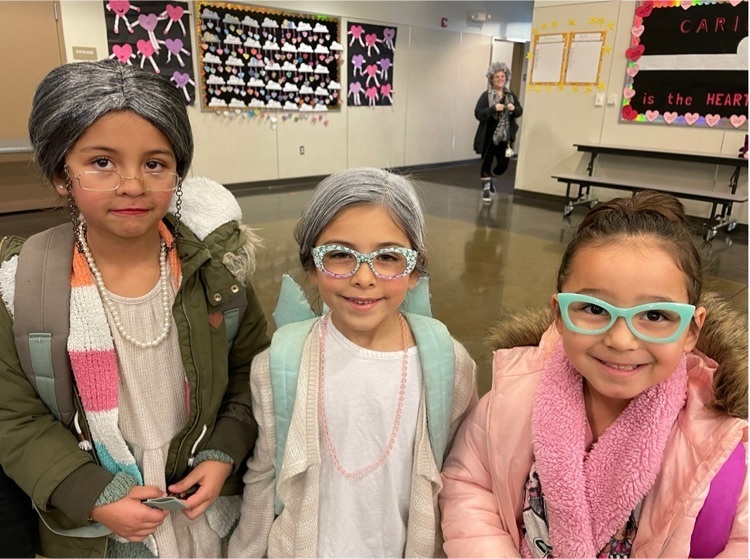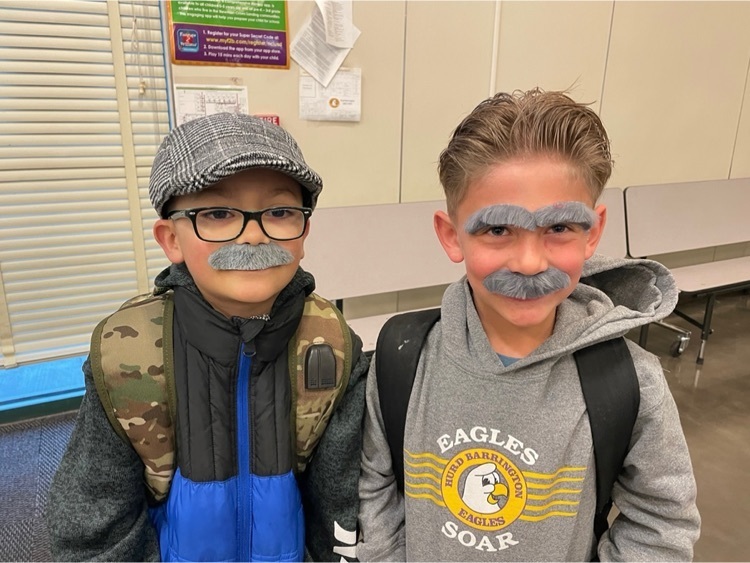 Ms. Dang's kindergarten class and Ms. Amador's 5th grade class enjoyed learning about Chinese New Year as they made dragons, watched a Chinese New Year dance performed by Ms. Weaver and Ms. Dang, then finished the celebration by participating in a parade of their own. Go Tigers!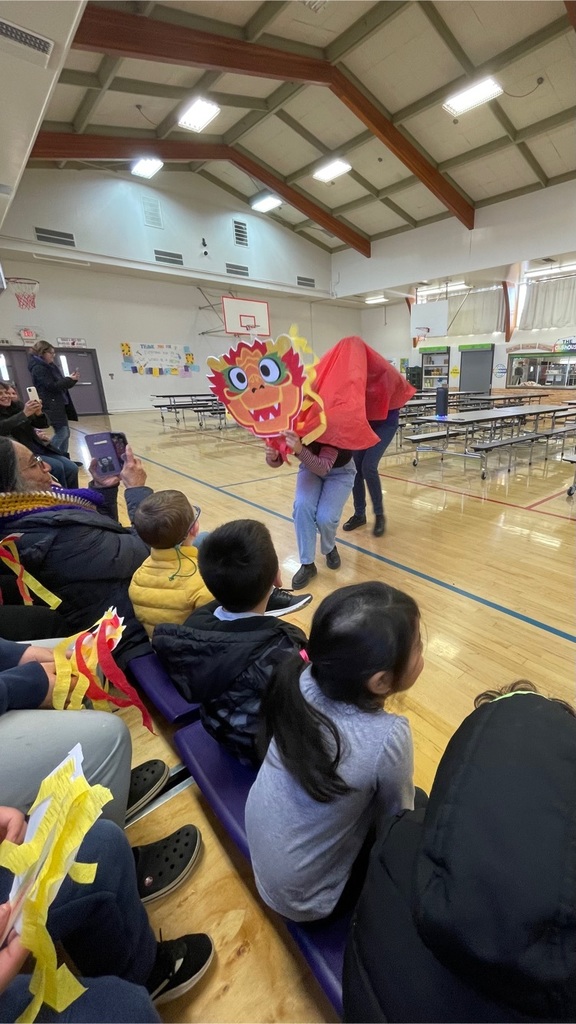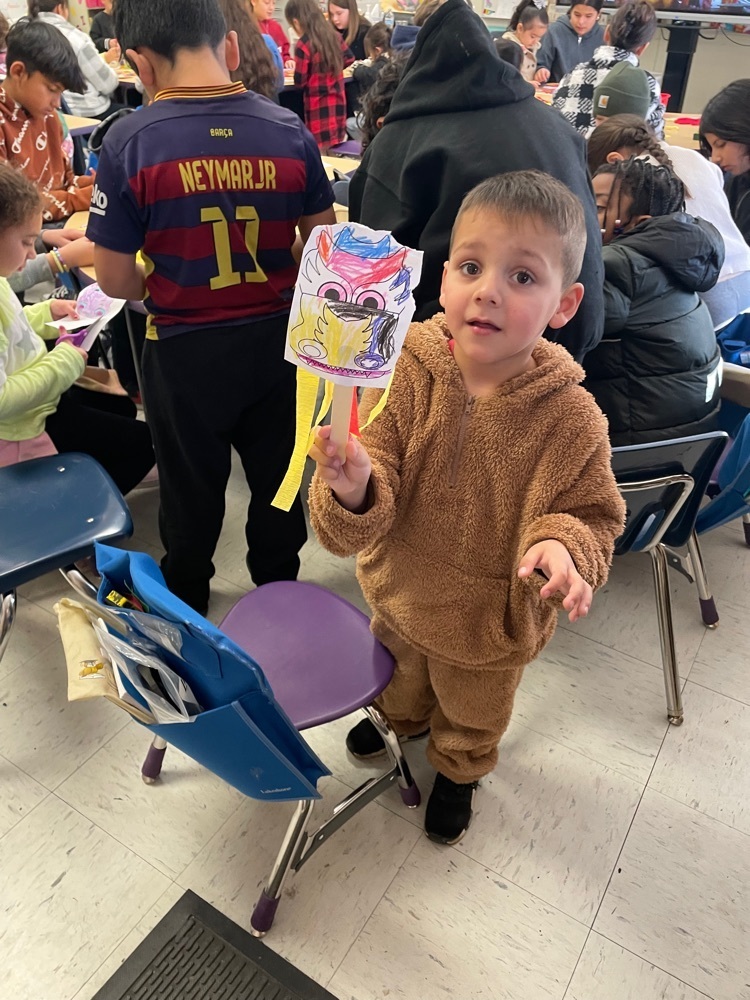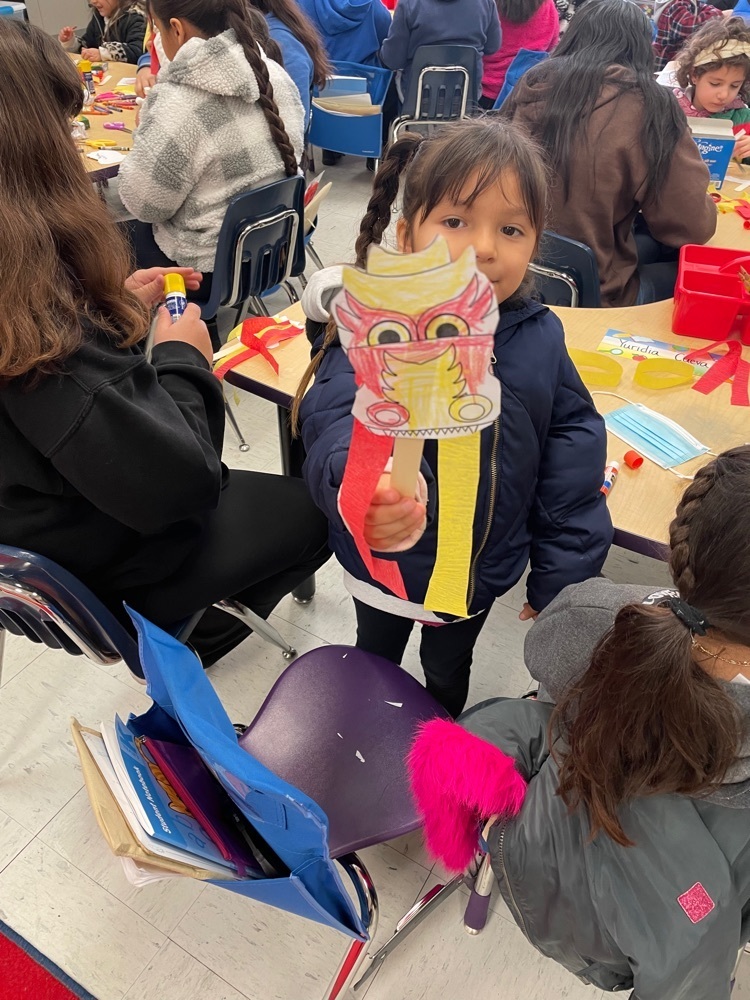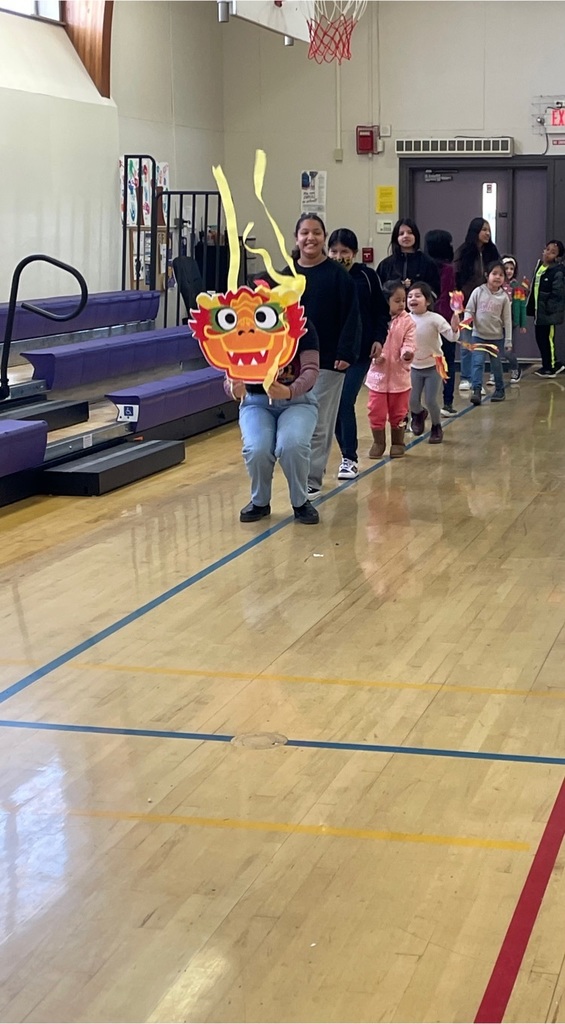 Barrington's third graders enjoyed doing chemistry as they learned how to make slime. The instructor from World of Wonders Science Museum also taught students that chemistry can be yummy when you bake things like cake.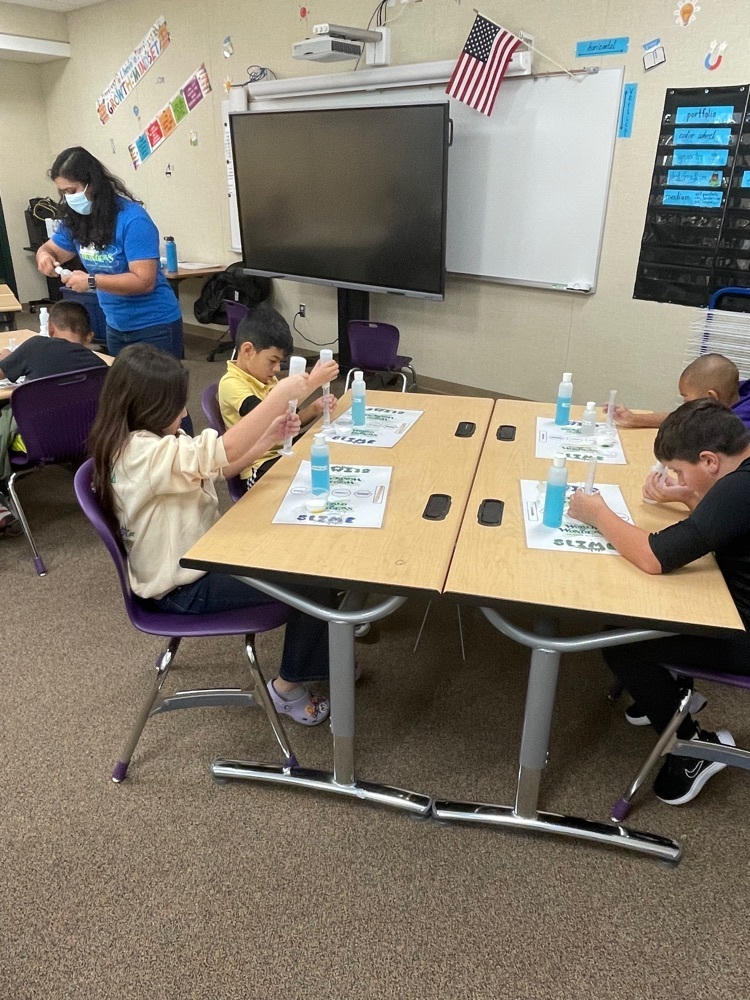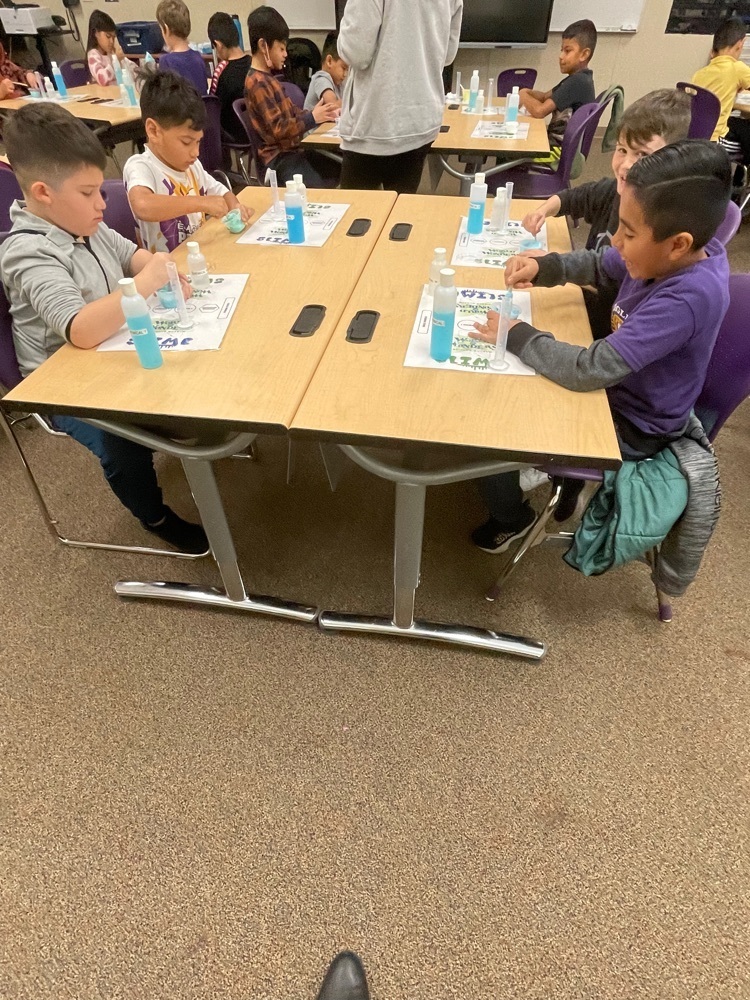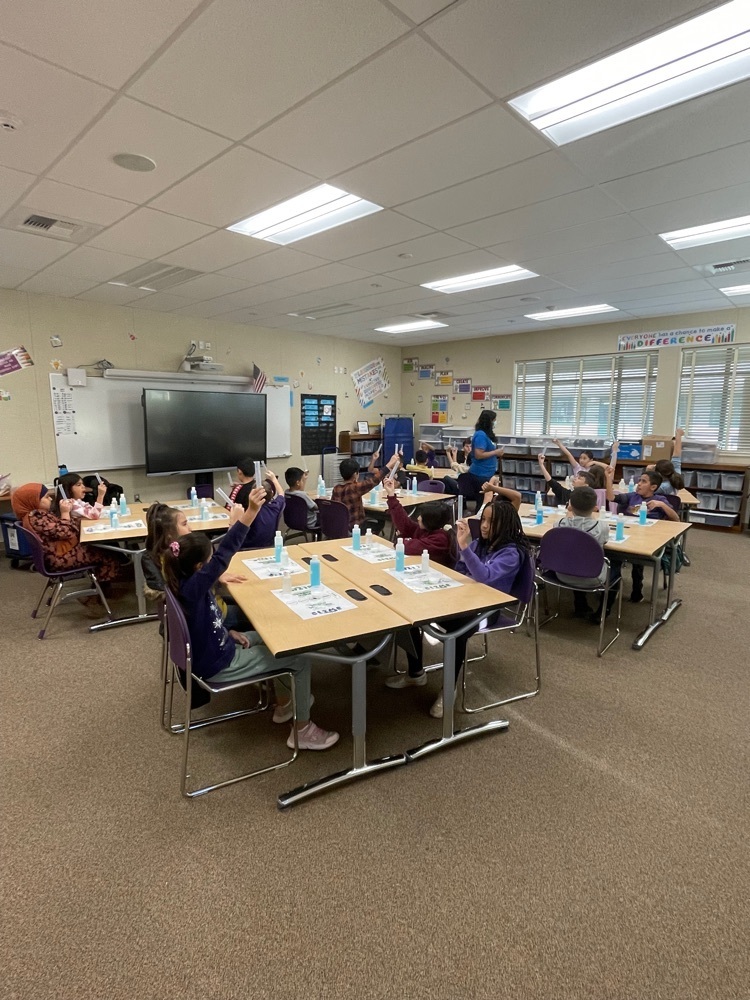 Yesterday evening, Newman Crows-Landing Unified School District Instructional Aide Margaret Montgomery, from Hunt Elementary was honored at the Employees Making a Difference Awards Ceremony at SCOE. Thank you Margaret, for all you do for NCLUSD!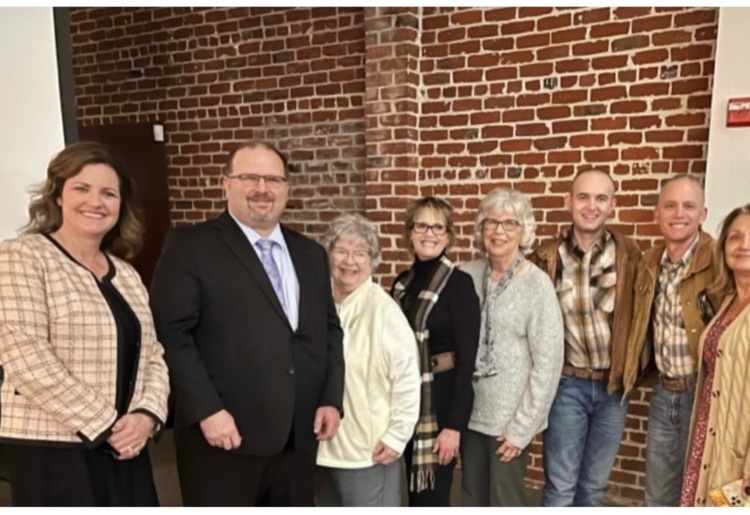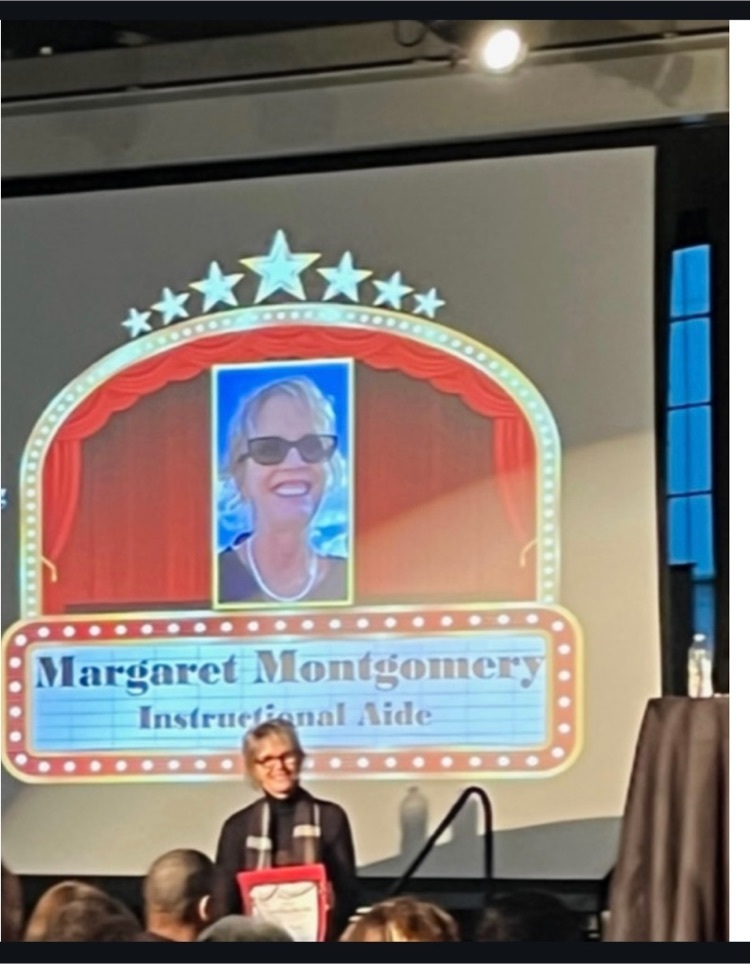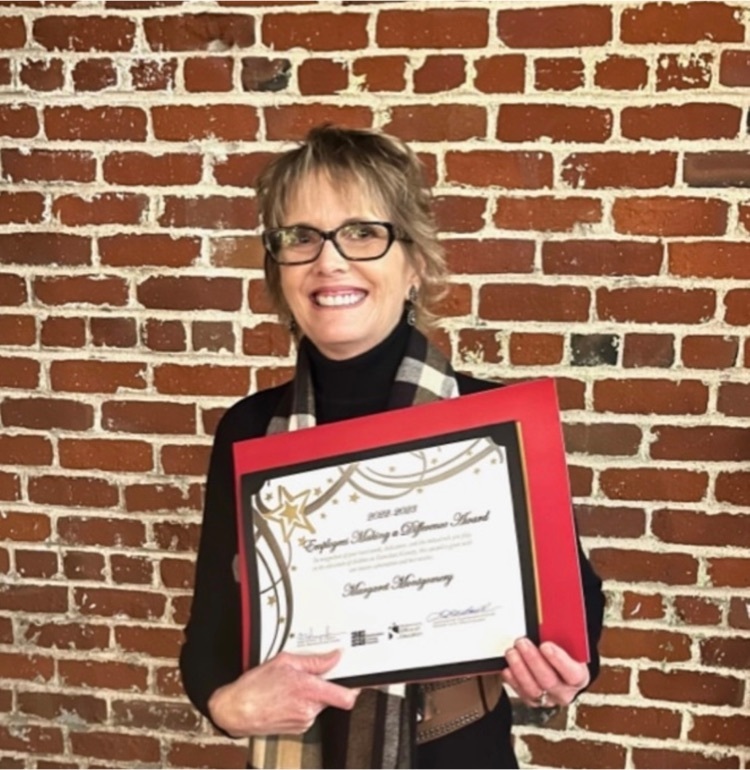 Thank you to all the amazing parents that have attended 2nd Cups of Coffee, school events, parent committee meetings, and have volunteered in our schools. You have helped to make an incredible impact on our staff and students.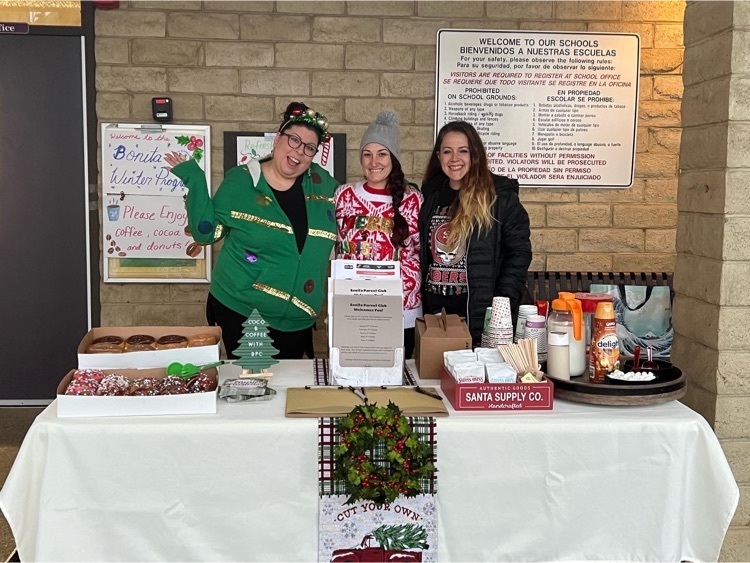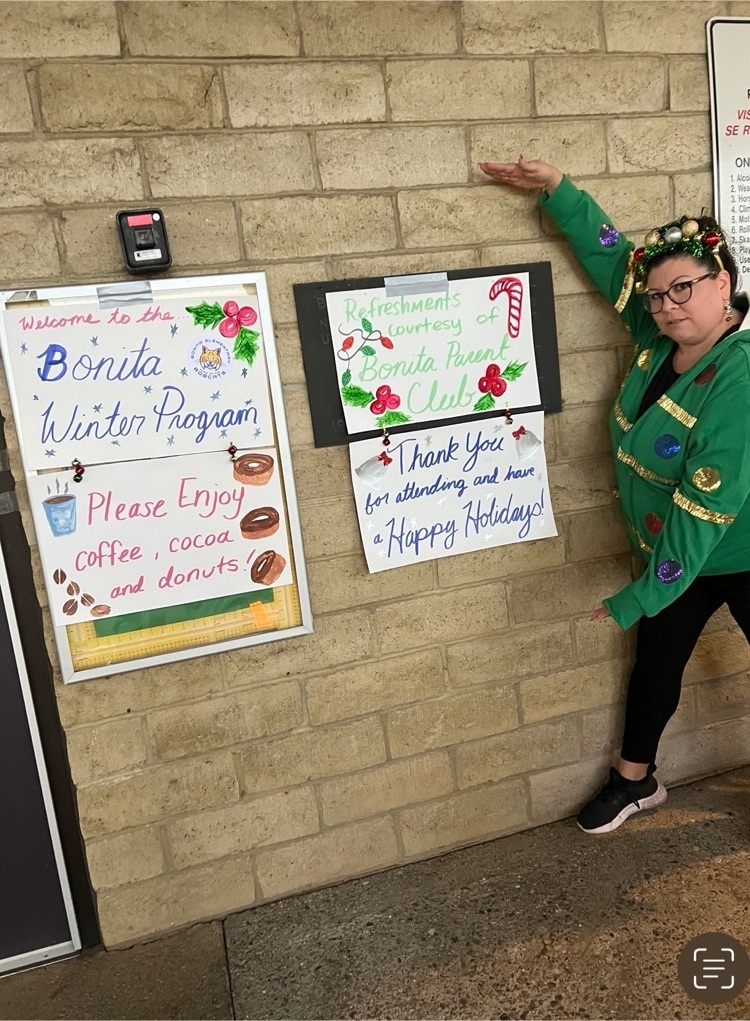 Barrington students, staff, and parents enjoyed a wonderful Christmas program. Then a special guest stopped by to wish everyone a Merry Christmas with a Hot Coco treat!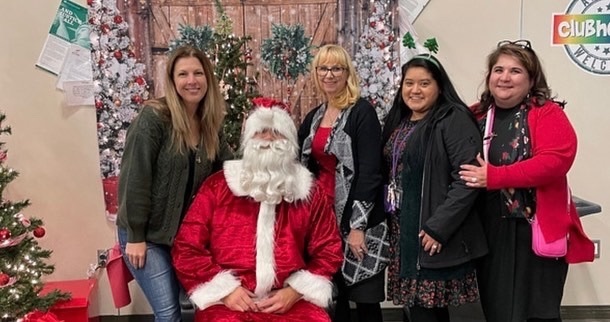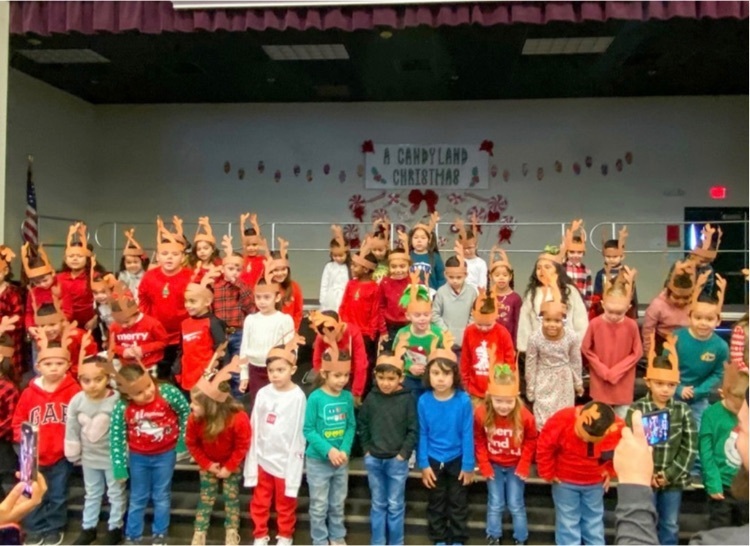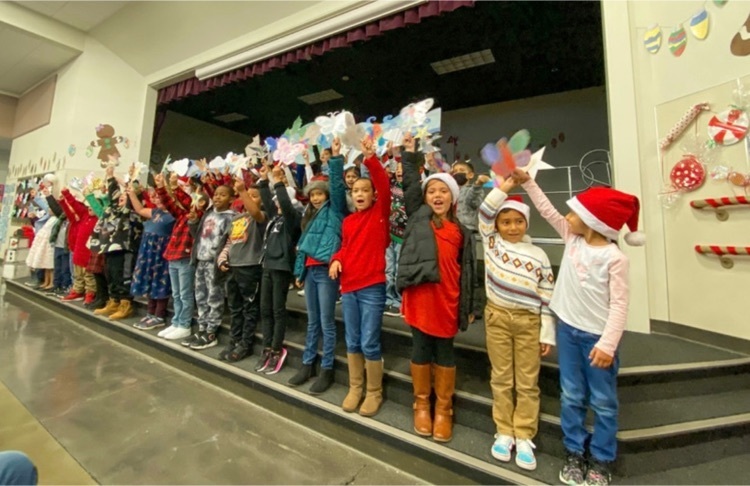 The Maintenance and Operation Department is enjoying their Staff lunch.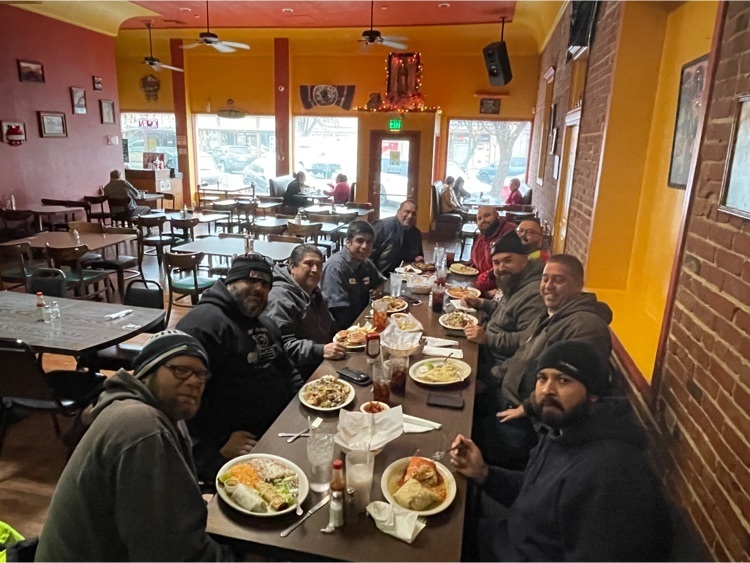 Joy, smiles, and jingle bells all to wish you a Merry Christmas from the Bonita Bobcats.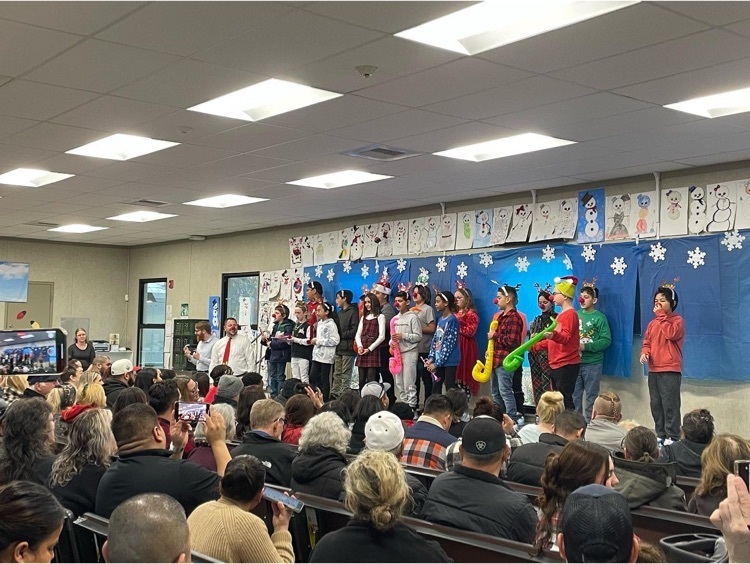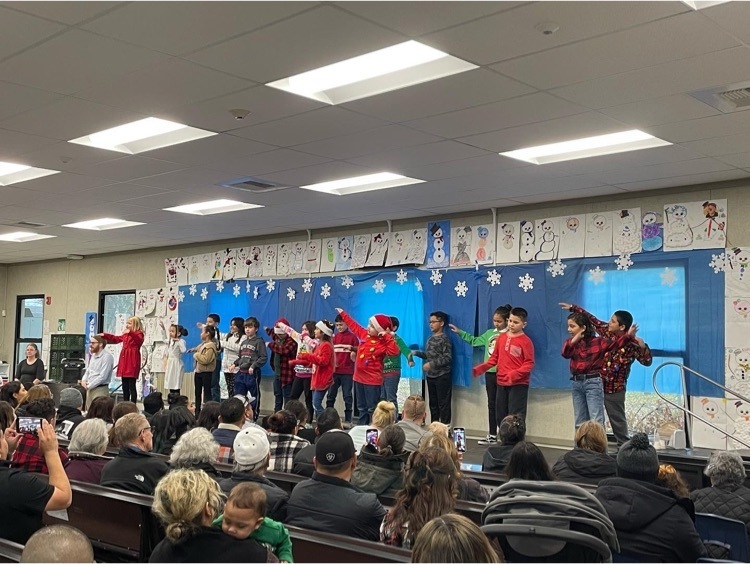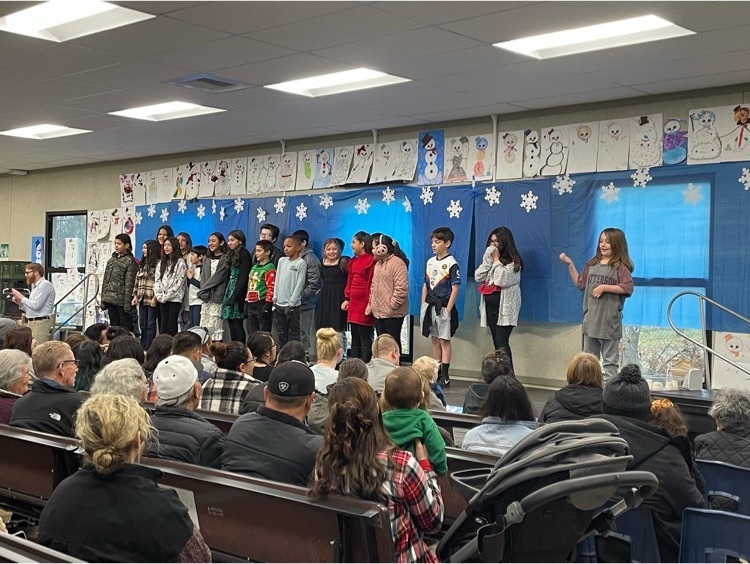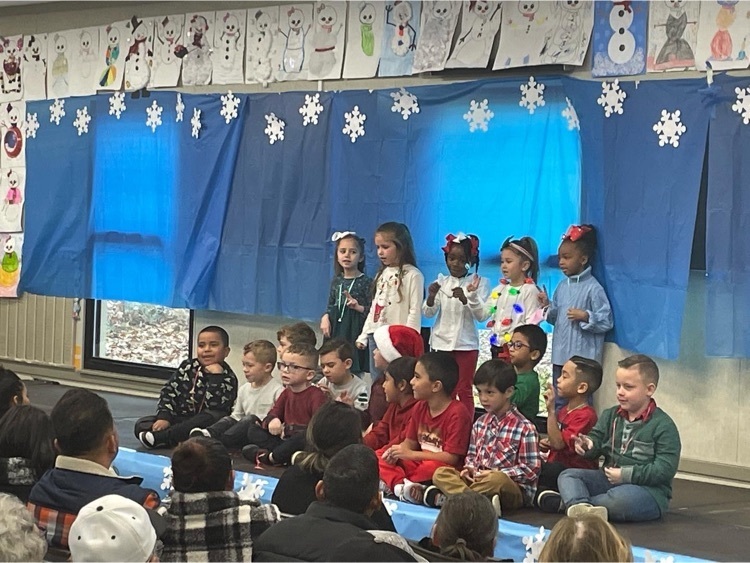 Happy Holidays from Von Renner!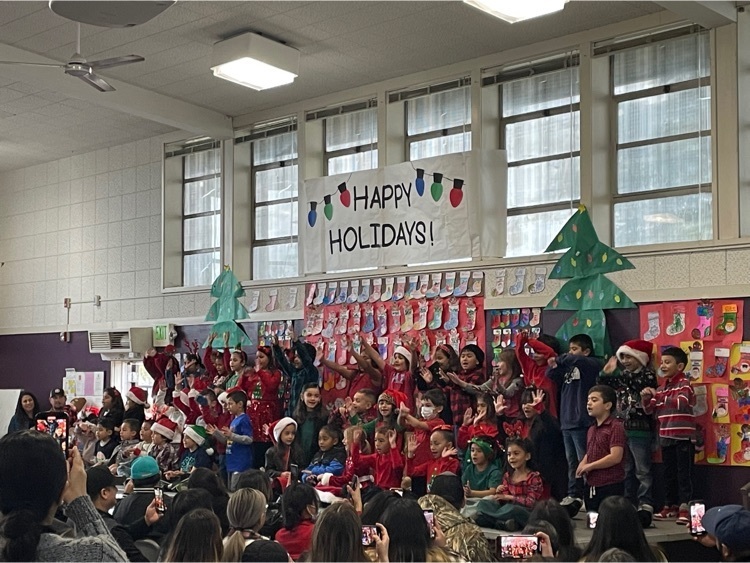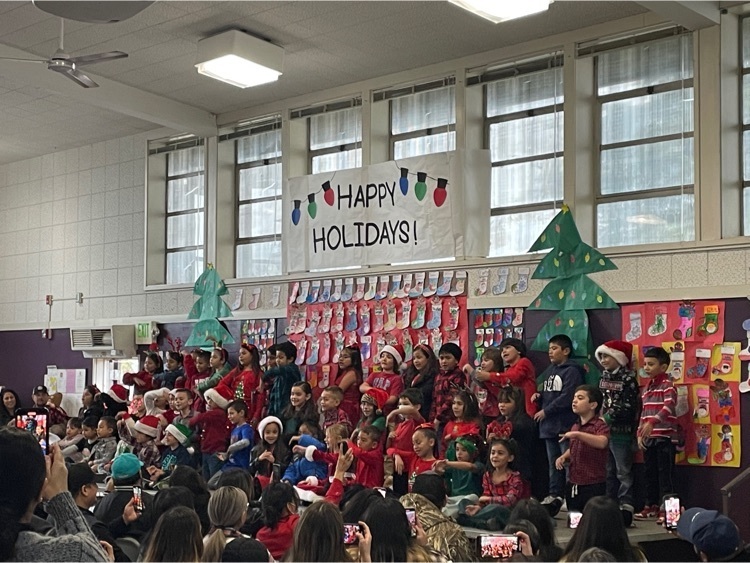 January is 'Hobby' month at the Newman Public Library. All month long the library will have hobby books displayed for you to look through to discover your new hobby in the New Year.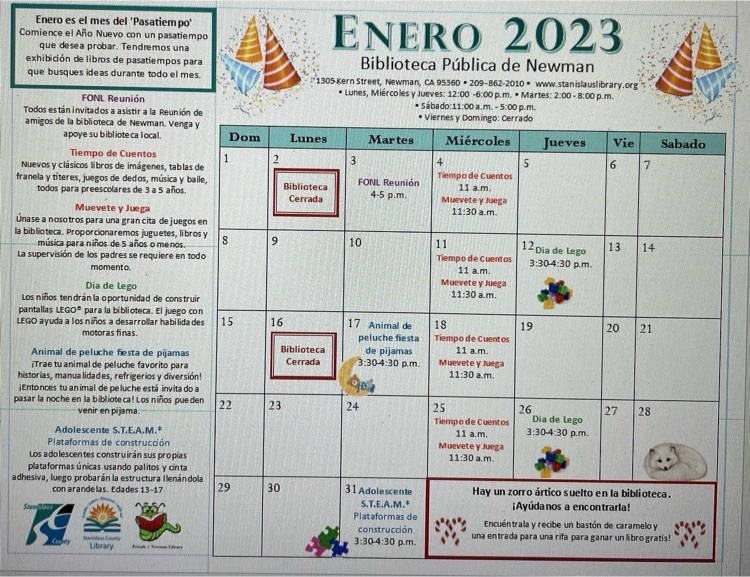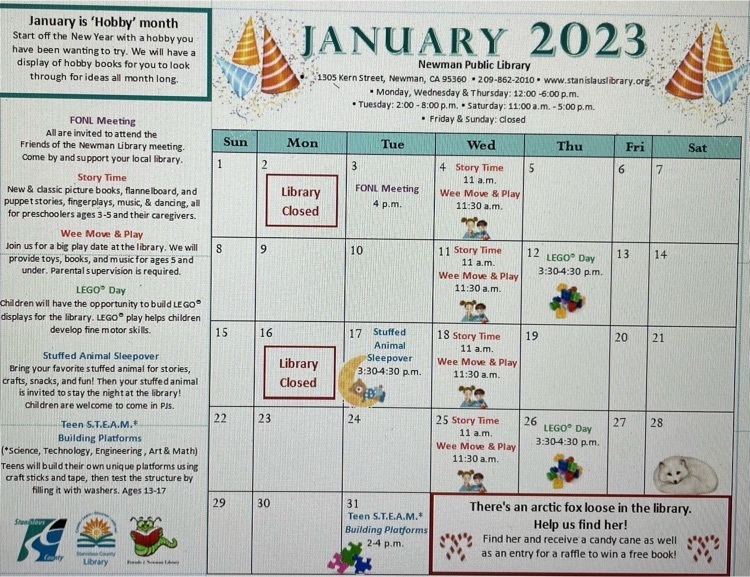 Merry Christmas from Mrs. Petersen and the Barrington Eagles.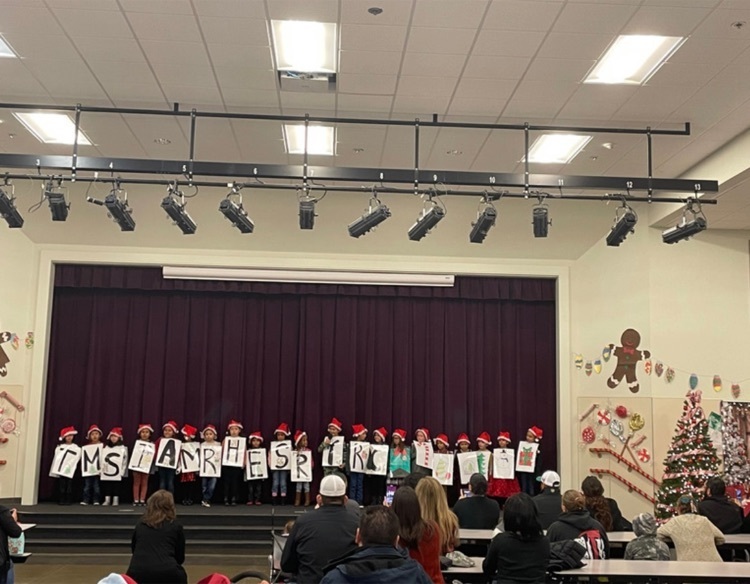 Hunt Tigers had a lot to celebrate at their Awards Presentation.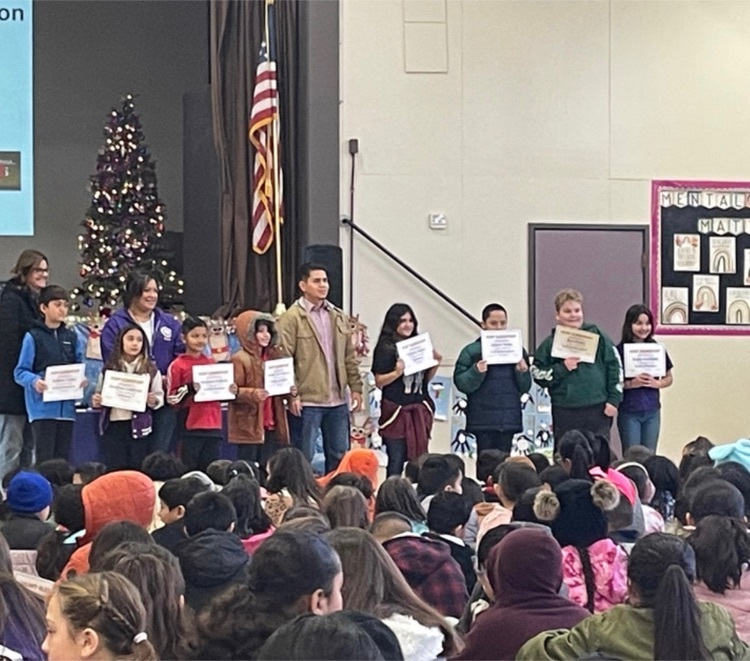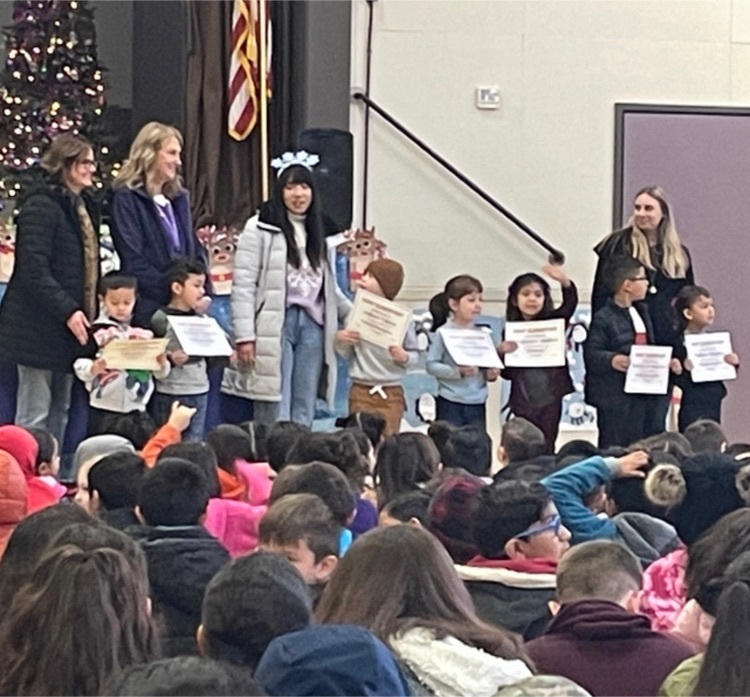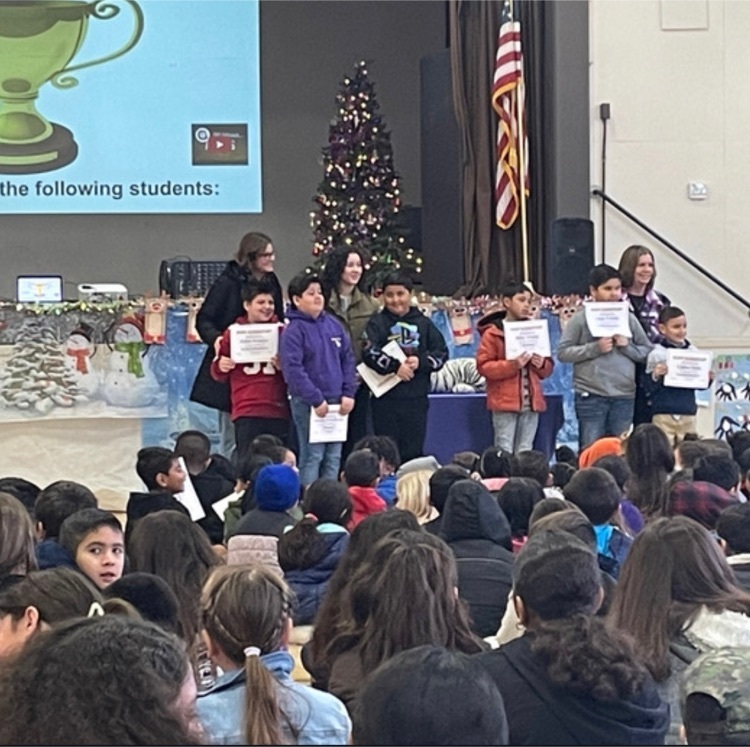 RFEP 2022 💫 Congrats Students!! (Reclassified Fluent English Proficient)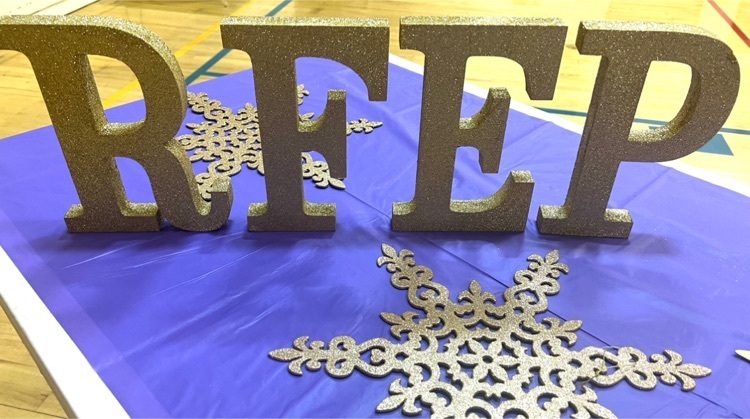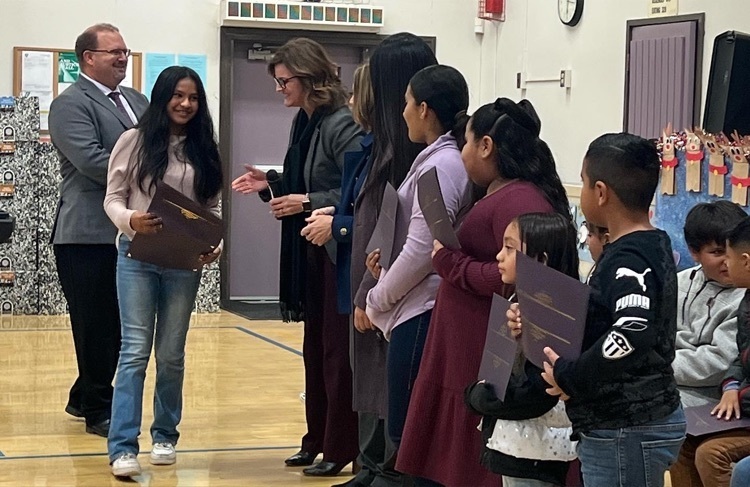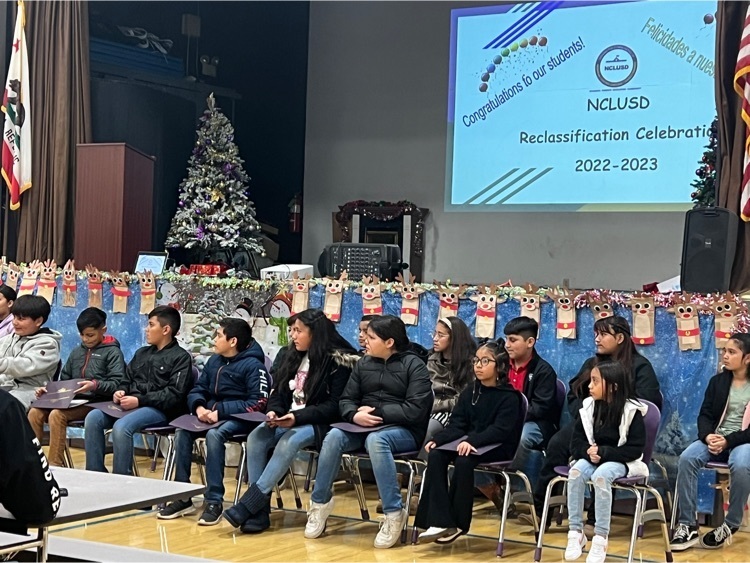 All Elementary Sites recognized students during our annual Reclassification Celebration.🌟 We are so proud of our students and we applaud this academic achievement.